Brands
The Leaders of Design & Innovation
Meet the companies that we call partners. They form the foundation of our product specifications thanks in part to their best-in-class performance, breadth of product offering and ongoing technological innovation.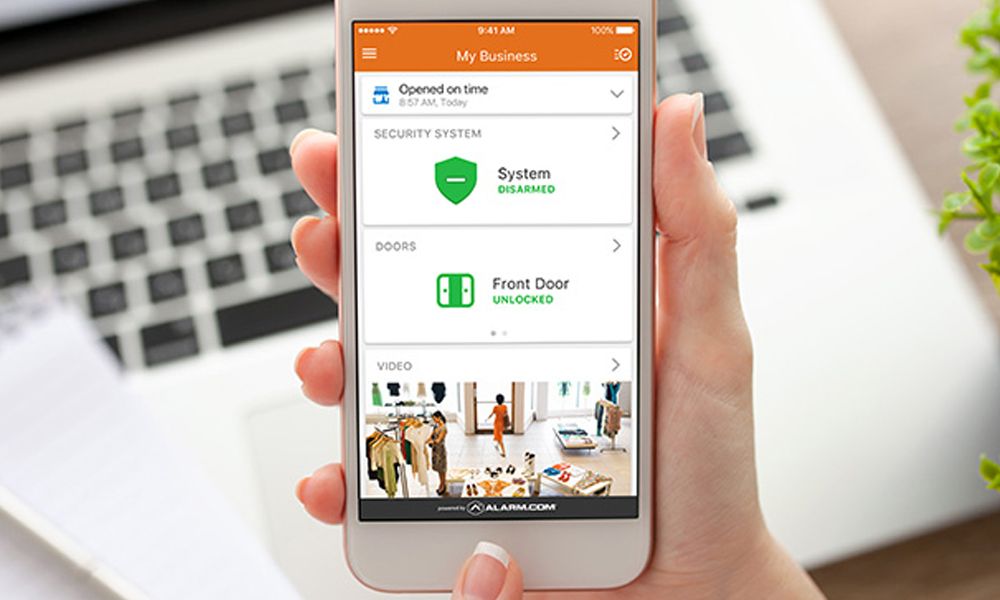 Alarm.com is trusted by millions for better home and business security, intelligent automation and dependable service. When founded in 2000, Alarm.com launched the first interactive home security solution, offering homeowners a revolutionary way to manage and monitor their security systems from anywhere. Since then, Alarm.com has led the market with new smart home and business capabilities, enabling the control and automation of thermostats, locks, lights and more. Headquartered in Fairfax, Virginia, Alarm.com offers solutions ranging from interactive home and business security to advanced video surveillance and monitoring, remote access control and home automation. With Alarm.com, stay connected to what matters most to you: your family, home and business.
Backed by over two decades of in-house, hands-on design and audio engineering, Anthem is the brand of choice for knowledgeable audiophiles, professional musicians and casual listeners alike. Anthem's award-winning preamplifiers, amplifiers and AV receivers deliver an unprecedented level of reliability and functionality for world-class home theaters, dedicated listening rooms and more. Revel in perfectly optimized audio performance with Anthem's proprietary room correction technology that sonically ensures top-quality sound throughout any space in your home. Promising pure audio with no trace of coloration or risk of distortion, Anthem always puts you front and center with your favorite entertainment.
Networks have more stringent performance and bandwidth requirements than ever before, and Araknis is the go-to solution for IT experts in both residential and commercial environments. For best-in-class functionality and support, Araknis offers the ultimate dependability through their wide range of networking products. Operate the network seamlessly when you want to find new features, set new security access levels or expand the system. Routers, access points and switches undergo thorough testing in a variety of environments. Diagnose and resolve problems before they become an issue through the company's trademark OvrC software. Using this cloud management platform, we remotely monitor all your network-enabled devices. We'll troubleshoot issues and reboot devices to help you avoid on-site service calls and extensive downtime.
Experience personalized control for your unique lifestyle with the power of Salt Lake City-based Control4. Connect virtually any device in your home or business to work together, and command them all with customized one-touch controls and scenes from your system remote or smart device of choice. Whether you're home or away, a Control4 dealer gives you the power to command and monitor your Nashville, TN estate or business in one platform. The transformative benefits of a smart connected home and business with Control4 delivers convenience, peace of mind and an efficient environment that's comfortable and safe.
Headquartered at the center of Silicon Valley in San Jose, Cisco is an American multinational technology conglomerate committed to developing revolutionary networking solutions for the education, healthcare, retail, entertainment, transportation, energy and finance industries. Cisco was founded in 1984 and is truly a worldwide leader in IT, networking and cybersecurity solutions, with a passion for helping companies of all sizes transform how they connect, communicate and collaborate. Cisco products range from networking hardware and software to telecommunications equipment, cloud management systems and other high-technology services. Grow your business faster and better with award-winning solutions from Cisco.
Bring your smart home dreams to fruition with one-touch control of your entire estate from an intuitive touch panel, custom-engraved keypad, smartphone or by voice activation. Crestron automation and control reveals your home or business' true potential with programmed scenes that instantly adjust your lights, shades, thermostat, audiovisual electronics, security system and more—all at the lift of a finger. Custom-tailored for any home, workplace and lifestyle, Crestron is truly the pinnacle of invisible comfort and convenience and takes pride in designing and manufacturing their products in America.
Digital Projection is not only trusted across the world for every projection application imaginable, but they stand as the only projection company to ever receive an Emmy Award for Achievement in Engineering Development. For more than three decades, Digital Projection has perfected the captivating imagery demanded by the most luxurious home cinemas, film festivals and commercial theaters on a global scale. A leader in innovation, Digital Projection represents a wealth of seasoned experience and expertise in powerful precision displays that stand above the rest of the industry. A projector by Digital Projection is truly a visionary's choice.
Draper, Inc. is your go-to resource for innovative audiovisual, solar control and gymnasium solutions. We've called Spiceland, Indiana home for more than a century, and that commitment and investment in the community makes us who we are. It allows us to deliver better quality, shorter lead times, and elevated ROI. Draper® has the capability and capacity to produce Core, Advanced, and Tailored solutions – in short, we can deliver you a solution that matches your unique needs, from the simplest of jobs to the most complex challenges. This wide range of capabilities, combined with partners across the globe, helps us deliver exactly what you need as efficiently as possible. At Draper, we're committed to helping you achieve your vision. It's about more than just products – from BMS integration to controls, our solutions stand ready to take your project from start to finish.
DSC (Digital Security Controls) is a world leader in electronic security. Since the company's genesis, the experts at DSC have been leading the way. From our revolutionary control panels, to our industry-leading IP alarm monitoring products and now to our sleek, contemporary self-contained wireless panels, DSC has always been front and center in the security space. In the 21st century, DSC continues to innovate in the areas of superior security monitoring, Internet security communications and wireless security products. We design and manufacture security control panels, detection devices, communication products and structured cabling solutions and our products are in homes and businesses across the globe.
Hartmann & Forbes is an award-winning, luxury maker of handwoven window coverings, wall coverings and textiles from natural, sustainable fibers. Perfect for designers and homeowners looking for automated window treatments that inspire a mindful awareness of nature, the Hartmann & Forbes line fuses tradition with technology to help create balance, harmony and clarity in any space. Protect your furnishings, conserve energy and improve security while basking in the beauty of the natural world. Choose from a variety of styles, from naturally woven shades and drapery, textile panel screens, performance roller shades and more.
Honeywell Security is a global provider of comprehensive security and surveillance solutions for both residential and commercial markets, including hospitality, healthcare, education and retail. A branch of the multinational corporation Honeywell, which was founded in 1906, Honeywell Security began its journey to becoming an industry leader in 1969. Honeywell Security offers robust solutions in access control, intrusion detection, life safety, video systems, security management systems and more. Their advancements in the industry have helped shape today's security systems, with analytics that pave the way for proactive and even predictive security. Headquartered in Huntington, NY, Honeywell Security continues to invest in their commitment to delivering world class service, support, quality and innovation.
Established in 1999 by audio engineers and craftsmen, James Loudspeaker takes pride in its commitment to innovation when designing high-performance audio solutions. James Loudspeaker offers lines for luxury homes, marine applications and enterprising businesses alike. Through cutting-edge technology and flawless designs, their products provide unprecedented sonic performance in both indoor and outdoor environments. James Loudspeaker solutions emphasize aesthetics to deliver powerful sound while having a minimal presence in the space. Loudspeakers from all lines include ultra-slim driver technology, adjustable frequency distribution and quad-tweeter arrays. All James Loudspeaker customers receive personal support to ensure a solution that satisfies all of their needs and preferences. Choose from a wide range of in-wall, in-ceiling, under eave, landscape, bookshelf and loudspeaker models.
Speak to your smart home like you would a family member or friend with Josh, a sophisticated voice-controlled automation system created by Denver-based artificial intelligence company Josh.ai. Josh uses proprietary Natural Language Processing technology so you can command your home in whatever way feels most comfortable. Josh will learn your daily patterns and take note of your preferences to make your smart home experience more effortless than ever. Since its founding in 2015, Josh.ai has put your privacy and protection first, promising never to sell your data and giving you full control over how much information your home collects. Use Josh with best-in-class smart home products like Control4, Lutron, Nest, Sony and more, and control your whole home from anywhere in the world with your smartphone.
With over ten thousand independent and major studio motion picture films, TV series, concerts and documentaries available, Kaleidescape serves homeowners the most pristine menu of 4K Ultra HD entertainment to be enjoyed from the comfort of their couches. Kaleidescape combines movie players and servers with online selection and delivery of the highest quality media, taking the top spot for must-have content sources that power your home theater or media room. Browse, select and purchase any content you desire, and upload your physical media to be stored digitally with the rest of your entertainment. The intuitive interface is designed for graceful navigation of your selections and settings so you never have to take your eyes off the screen.
Introduce natural light into your spaces with low voltage, tunable LED lighting from Ketra. The Texas-based company was founded in 2009 and offers the world's most advanced lighting systems, drenching residential and commercial spaces in the widest range of pristine whites and vibrant colors from a single source. Conjure the warm glow of an incandescent, the cool of moonlight or effortlessly create your own colors with advanced Dynamic Spectrum control. Ketra not only adds beauty to your spaces but encourages improved productivity and relaxation with human-centric lighting that mimics the sun's rays. Command your Ketra light bulbs and fixtures from the convenience of your smartphone or wireless keypads or integrate Ketra with the rest of your smart home through the Lutron HomeWorks QS luxury automation system.
Luma Surveillance delivers security solutions crafted without compromise with IP and analog systems that deliver crisp images and intuitive user interfaces. Optimize your security without ruining your décor with sleek cameras available in various styles and colors. Designed with homeowners in mind, Luma recorders offer a simple, consistent interface that lets you play, pause, rewind and edit video with a simple click or tap. Their video management systems make it easy to flip between recorded and live footage, whether at home or on the road. Users can also create precise rules for when cameras should record to avoid hours of useless footage. Luma—a subsidiary of Charlotte-based Snap AV—integrates seamlessly with the top smart home companies including Control4, Crestron and Savant.
Inventors of the solid-state dimmer in 1959 and now holders of 2,700 worldwide patents, Lutron has expanded their product offering to more than 15,000 products. Lutron makes it possible to craft the perfect atmosphere in your Nashville home or workplace to complement your day-to-night activities with personalized smart lighting and motorized shades for enhanced comfort and productivity. Recall your favorite settings from a master keypad or remote to easily transform your Tennessee space's environment with just a tap or set your lights and shades to adjust on their own so you can focus on the activity at hand. From the workplace to the home, Lutron provides sophisticated solutions for custom lighting and shading that operate seamlessly at your command.
An audiophile favorite since 1953, Marantz delivers uncompromising sound true to the original recording. All Marantz products are crafted with sonic supremacy in mind to provide unmatched hi-fi sound that redefines the listening experience. Each product is the result of purposeful design and state-of-the-art technology that respects tradition while embracing innovation. Having passed rigorous testing at the hands of in-house sound masters, you'll experience the same extraordinary Marantz signature sound each time. At the heart of all Marantz' hi-fi audio products is the idea that music matters—and so does the way you listen to it. Let Marantz' award-winning receivers, amplifiers and wireless music systems transform the way you listen to your favorite music and movies.
Find the optimal high-performance audio solution for home theater systems, outdoor sound and 2-channel audio through a wide range of Paradigm loudspeakers. Since 1982, the Toronto-based company has perfected the balance of construction, design and engineering for the ultimate value in high-end sound. Relying on in-house audio research, Paradigm constantly re-tests, re-measures and re-designs their speakers for superior sound quality every time. Even the most critical listeners will be amazed by the clarity and power of sound emanating from their loudspeakers while listening to music or movie soundtracks. Variables within the room can easily affect sound quality which is why all speakers include Anthem Room Correction (ARC) technology. ARC eliminates these variables by comparing room acoustics to the company's lab standards to get rid of adverse results through custom calibration.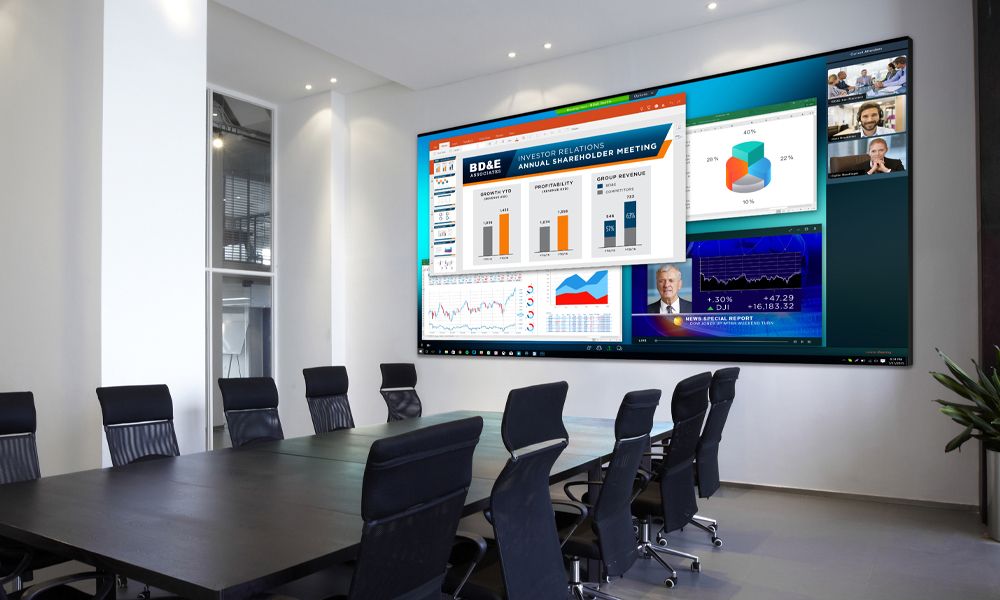 Relying on over 30 years of experience, Planar delivers reliable, technology-forward solutions to the most common significant display challenges. The Oregon-based company eschews the razzle-dazzle of many display manufacturers and focuses on what matters most: functionality. Understanding how you want to use the technology and where you place it is vital to creating solutions that let your company shine in visual-heavy industries where display performance is critical. Planar offers stellar LCD and LED video walls, 4K LCD displays, touch displays and desktop and touch screen monitors. You can find Planar products in airports, hospitals, ATMs, retail stores and even residential applications throughout the world from San Francisco to Shanghai.
In 2004 Professional Home Cinema, LLC revolutionized residential surround sound by introducing a range of genuinely professional-grade audio loudspeakers and DSP amplifiers. In 2010, Professional Home Cinema changed it's brand name (but not business name) to Pro Audio Technology, "PRO", to better fit company strategic direction. To this day, PRO systems remain the go-to choice of movie and music industry A-listers, sports stars, and business and world leaders. In 2020 Pro Audio Technology owner, Paul Hales, founded sister-company Theory Audio Design (Theory) to bring PRO's technology to residential and commercial installed audio at more attainable prices.
As the first home automation company to embrace mobile technology for control inside and outside the home, Savant is a leader in innovation. The brand helps to cultivate the ultimate luxury lifestyle with personalized control of your entire home, business or yacht from an intuitive mobile app, high-resolution touchscreen, elegant remote or by voice activation. Savant offers any user the unparalleled convenience of controlling your lighting, climate, entertainment, pool and spa, security and more from a single platform no matter where you are. Set distinctive scenes that mold to your every mood and transform your home into a coveted entertainment hotspot at the touch of a button. Whatever you imagine, Savant can help make it a reality.
Unleash the full potential of your home theater with Screen Innovation's masterful indoor and outdoor screen models. Revolutionize your viewing experience with ambient light rejecting screens so you can enjoy your favorite films even during the day. Embrace the big screen experience in a stylish environment with their sleek, zero edge models that fit seamlessly in any space. Now you can even take your screen on the go with the Solo line model featuring a portable cassette and a two-year battery life. Tiles and rear projection screens, meanwhile, allow unique and engaging digital signage solutions for businesses. Recently, Screen Innovations has also released motorized shades for indoor and outdoor use in a wide range of models and colors.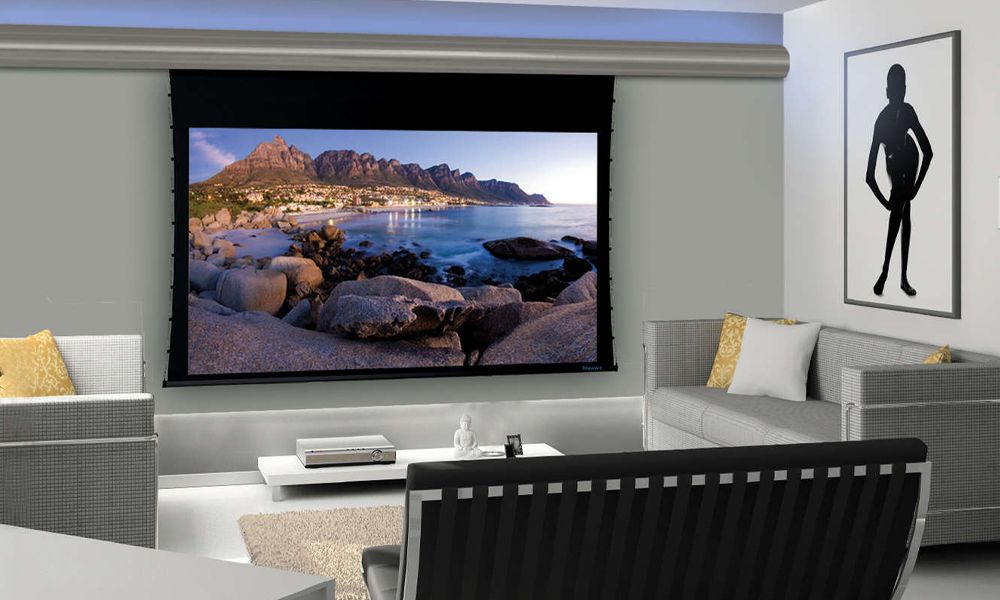 A leader in the projection screen industry, Stewart Filmscreen Corporation combines elite function, value and quality in all of their products. For 70 years, their extreme attention to detail has resulted in some of the best display solutions for home theaters, digital signage and conference rooms. The designers at Stewart Filmscreen Corporation reject the one-size-fits-all mentality. Whether you need to adapt your screen to ambient lighting, rear projection or an office workflow, Stewart Filmscreen Corporation delivers the ideal model for any application. Their display inventory includes 25 different screen materials, custom-built for each installation. Their brightness and color uniformity make them the go-to company for post-production work by major movie companies and the only screen manufacturer company with two Academy Awards.
Elevate your expectations of home entertainment with Samsung's most innovative and advanced range of televisions that offer an impeccable visual and auditory experience for film and gaming enthusiasts alike. Samsung's proprietary Quantum Processor is the mastermind behind their unrivaled QLED 4K and 8K TVs that display a depth of detail, contrast and realism never seen before. Even when not in use, Samsung displays add beauty to your home by transforming into framed artwork or blending into the decorative pattern on your wall, elevating your space while turned on and off.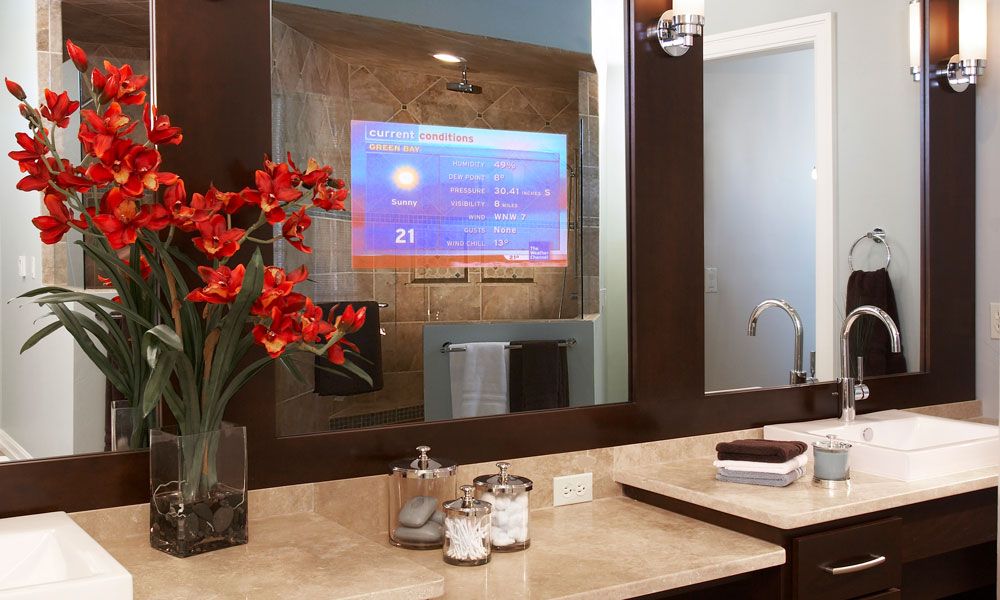 Revel in the perfect harmony of design and technology with Séura's award-winning line of smart mirrors and TV solutions for your indoor and outdoor spaces. Improve your morning routine with Séura SMART technology that incorporates seamlessly into a custom vanity for total home control at the touch of your bathroom mirror. Elevate your living room with intelligent 4K TV displays that disguise as beautifully framed mirrors when turned off. And see yourself in the best possible light with elegantly lighted mirrors that illuminate your bathrooms without the need for cluttered sconces and light fixtures. Certified as a Woman-owned Business Enterprise and with all products manufactured in Green Bay, Wisconsin, all Séura products get to wear the badge of Made in the USA by American craftsman.
Established in the early 1980's, Southern California-based Dana Innovations is the parent company of Sonance, iPort and TRUFIG. Sonance specializes in designing high-quality audio systems for luxury homes and businesses that work in virtually any environment, from in-wall and in-ceiling to expansive outdoor landscapes and more. Enjoy sightless surround sound that immerses you into your favorite blockbuster film or musical soundtrack with discreet speaker solutions that complement any indoor décor or hide evenly throughout your gardens and foliage. With Sonance, delight in immaculate sound with minimal visual impact thanks to the beautiful blending of technology and aesthetics.
Delight your senses with professional-grade home entertainment solutions designed to harmonize both picture and sound for a breathtaking, true-to-life experience. Unprecedented contrast, color and realism are made possible with Sony's proprietary technologies that also lead in pixel-by-pixel detail for texture you can practically feel. Whether you're outfitting a multi-purpose media room or a dedicated private cinema, Sony's line of premium 4K HDR projectors and TV displays, AV receivers and high-resolution speakers work in tandem to craft the immersive experience intended by film and video game creators.
SunBriteTV was founded in 2004 for the explicit purpose of creating displays that deliver the ultimate brightness and image quality when hit by direct sunlight. Housed within a durable aluminum case, SunBriteTV displays can withstand extreme temperatures, UV rays, dirt and rain. Although huge in the residential market, SunBriteTVs are so reliable that they are used in many professional stadiums including Yankee Stadium and Wrigley Field. Their TV lines vary depending on whether you want to watch in full shade, partial sun and full sun. Each model is 2-3 times brighter than indoor displays to make up for ambient lighting. Models for full shade and partial sun are also available in 4K UHD video resolution. With sizes ranging from 32" to 75", there's a solution for any home entertainment system. The California-based company is the only consumer brand that manufactures all its televisions in the United States.
Dreaming of a relaxing exterior experience? TerraVue outdoor shade systems can turn any open-air environment into an oasis. With the ability to combat heat from every angle, you can savor the outdoors while sustaining your exterior views.
Theory Audio Design was founded in 2018 to bring fresh thinking to the design of audio products for residential and commercial installations where too many "me too" products have remained unchanged and uninteresting for decades. Theory makes a simple promise: to deliver the best performance available in every product category we enter. Theory and sister company Pro Audio Technology have an Experience Center in Lake Forest California in the heart of Orange County where products from both brands can be experienced first-hand*.
Founded by former Apple engineer Robert Pera in 2005, Ubiquiti is committed to connecting everyone to everything, everywhere. Ubiquiti develops high-performance networking product platforms ranging from long-range wireless equipment to reliable home routers, as well as software and internet services that transform organizations for the internet economy. A global leader in managed wi-fi systems, Ubiquiti networking solutions excel even in the most demanding of environments. Whether you're interested in high-capacity distributed internet access, unified IT solutions or next-gen consumer electronics for the home, you can expect superior performance, clever mechanical design and ease of use every time. Ubiquiti is headquartered in NYC but has several office locations all around the world.
Visualint is intelligent video surveillance. Through seven "rules" of analytics, robust system integration and remote video monitoring, Visualint solutions deliver unparalleled safety to residential and commercial jobs. At the core of each Visualint system are intelligent video cameras backed by over twenty years of research and development. Using seven analytic rules, our trained technicians create customized, virtual boundaries that extend beyond the walls of the customer's property out to the perimeter, revolutionizing the way you see surveillance systems. Visualint's unique virtual sensors make the smart home smarter by integrating surveillance intelligence with common control triggers – so you can arm/disarm alerts or program lights right from the camera. Combining traditional surveillance features with round-the-clock monitoring and safety features typically found in security equipment, we protect property from a virtual boundary line—not just from the walls in.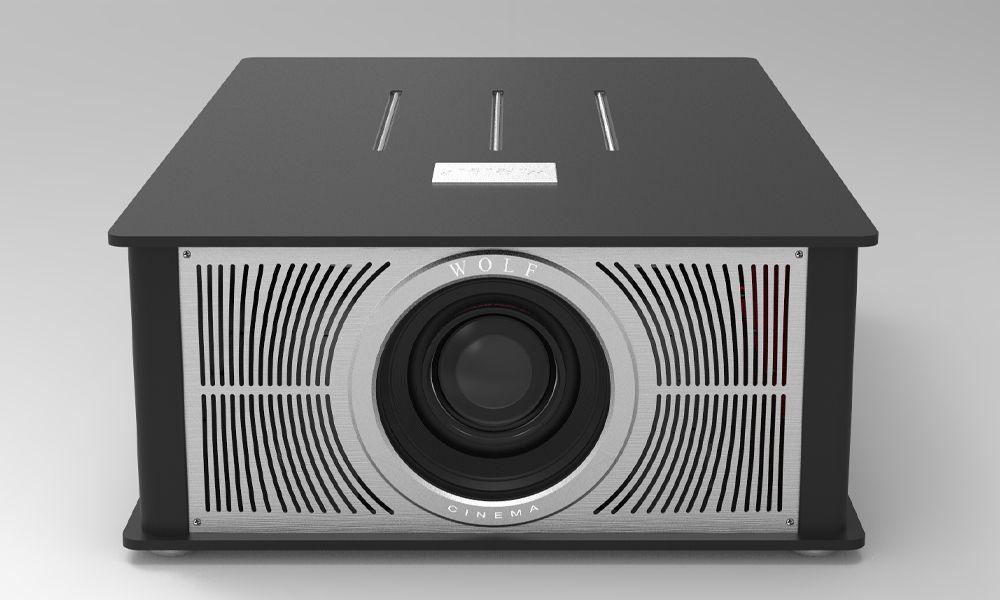 Since 2008, the Wolf Cinema team has been crafting home theater excellence in Berkeley, California, building upon a tradition of proven imaging platforms with our unique techniques and technologies. Each hand-built projector undergoes an extensive battery of tests and quality control checks throughout the production process - all to ensure your home theater projector delivers that "Wow!" right from the start, and for many years to come. Wolf Cinema is committed to providing the highest quality reference projectors for the discerning enthusiast. We specialize in studio quality displays that can reproduce the image as the cinematographer intended you to see it. Our displays are not only reference imaging solution, but are carefully designed to meet the demands of custom installation, systems integration, control, flexibility and longevity.
Start Your Journey to Smarter Living
Connect with us to learn more about how these industry-leading brands work together to create your dream smart home or business.